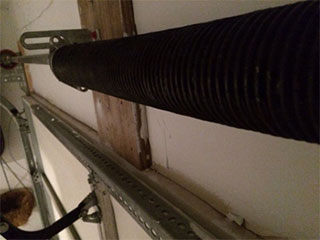 Although many people think that the opener is what supports most of the weight of your garage door, that's actually not the case. The springs are the ones that are responsible for that. They also provide the counterbalance needed to move the door with relative ease. Because of the constant stress these parts are under, they will end up breaking after a certain amount of time has passed.
Our Maintenance Service
Because of the high amount of tension garage door springs have to withstand, some regular maintenance is needed in order to make sure they reach their full potential. This includes proper lubrication, which can maintain the smooth and quiet performance of these units, and reduce the friction that causes them to wear out more quickly. As part of our routine maintenance service, our team will also perform a balance test of your door and then adjust the spring tension. This will reduce some of their strain, and make sure that your door stays balanced.
Emergency Repair Services
After a break down occurs, using your garage door can be nearly impossible, even trying to do so can be terribly dangerous. You should always leave this type of problem to our professional technicians, as trying to replace a broken spring without the necessary training and experience can be very dangerous. Whether you have a pair of extension based units or a single torsion spring, you can rest assured that our experts will be able to take care of everything.
No Needless Risks
Because of the inherent dangers of dealing with such high amounts of tension, it's important that you let professionals handle the more complex tasks, such as spring adjustment or repair. Our experts at Garage Door Repair Van Nuys are here to assist you when something goes wrong. Don't hesitate to get in touch with us as soon as you encounter a problem.
You can also count on us for:

Roll Up Garage Door Services

Garage Door Tune Up Services

Genie Garage Door Opener Services

Galvanized Torsion Spring Replacement