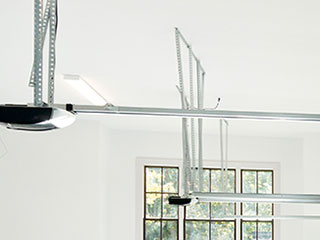 Garage door maintenance does not have to be a drag—lubricating the door rollers and the springs, as well as out other basic tasks like safety tests and wear and tear inspection can be carried out quickly and without much hassle. Doing this on a regular basis will help you make the entire mechanism last longer and reduce the chances of a malfunction occurring. However, every part will eventually need to be replaced, and while it can be simple to tell when a track or a cable needs to be swapped out, it can be a little harder to determine that for your door's motor unit, other than a complete failure. Here are some of the different benefits that new models can offer. You should consider them and decide if it may be time to get rid of your old and subpar opener in favor of a new automatic unit.
Improved Home Security
Older overhead garage door openers lack the special innovative features that modern models offer to counteract the attempts of tech-savvy thieves and prevent them from exploiting the unit in order to gain access into your home. Many new models use rolling code technology, to do this. Especially notable are the LiftMaster Security Plus and the Genie Intellicode.
A Battery Backup System
This one is particularly advantageous during emergency situations, like when the power goes out unexpectedly. Under normal situations, in order to use the garage door during this scenario, you'd have to first disconnect it from the opener and then manually lift and lower it. However, with a battery backup system, the unit will be able to continue functioning automatically, which is also an added safety enhancement, as if the power goes out while the opener is working, it may damage some of its parts.
Smartphone Connectivity Features
Newer garage door openers can be connected to a password protected wireless keypad, which can allow you to open the door without having to carry a remote control with you. However, there is a newer option available today, and that is to use a 'key' that you are already carrying with you. Your very own smartphone can become your garage door remote control, as long as your opener has the required WiFi compatibility. Forget about misplacing the remote and dealing with different glitches. With this feature, you'll be able to monitor and control your door from wherever you are.
Need Some Help?
These are just some of the different benefits a modern garage door opener has to offer. If you're looking to get a new unit installed but want to consult with experts about some of the different influencing factors, our team at Garage Door Repair Van Nuys will be happy to help.