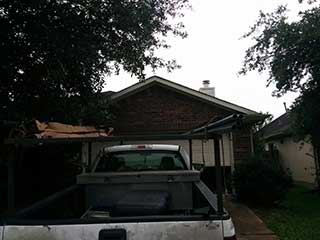 There are many different problems that a garage door system can develop. This can include anything from bent tracks to dented door panels and a malfunctioning opener. This range of potential problems means you'll need a repair service you can rely on - our highly experienced technicians can provide the skills you need. With more than a decade of experience fixing every type of problem there is, you can rest assured that our team will find and fix whatever the issue is.
Fixing Door Panel Dents
It's easier than you probably think to accidentally dent your door panels, and this kind of damage can quickly spoil the door's appeal. Our team can quickly and effectively remove many small dents and dings. For larger areas of damage, it may be necessary to replace the panel entirely. We can help with this too - we supply panels from all the major manufacturers.
Worn Or Damaged Springs
All doors use high-tension springs to best assist with opening and closing, but these springs will wear out with time, and will need to be replaced. They can be dangerous if left unattended. If your door is wobbling when it moves, or isn't balancing correctly, you'll need the help of our team. Don't try to tackle this job yourself as high-tension springs can be extremely hazardous if not handled by a trained professional.
Broken Door Rollers
Your door needs to move smoothly and easily along its tracks – for this to happen, it requires the rollers to work with minimal resistance. However rollers can become damaged easily, which makes the task of raising and lowering the door much harder. These rollers can be replaced by our technicians, who will extract the damaged units and insert new ones in their place. This cuts down on wear and tear, and reduces the chance of further failures in other, more expensive components.
Our Team Is Ready To Help
Don't just put up with a door that's not working right - get in touch today and set up an appointment. Contact our team at Garage Door Repair Van Nuys for assistance with any problem, from a malfunctioning opener to a replacement door!
But wait, there's more! We also offer:

Track Alignment & Repair

Torsion Spring Adjustment

Part Replacement & Repair

New Opener Remote Controls