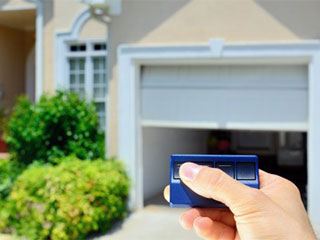 Garage door systems have a limited lifespan and they will eventually break down completely, even with constant maintenance (albeit, with regular servicing, the mechanism will be able to last a lot longer). Garage door parts can be affected by weather conditions and thanks to the constant wear and tear they go through, they will inevitably break down after a while. Of course, no breakdown exists in a vacuum, and when one part malfunctions, other components will also be affected. Here is an overview of the four most common issues your door may face. Understanding them can help you catch them in time and address the situation before it exacerbates.
The Door Doesn't Open Or Close Properly

This type of issue is very often because of a tension-related issue with the garage door springs. It's a balance issue, which means some adjustment will be in order. Handling these components can be very dangerous, as they are in charge of counterbalancing the weight of the door panels, and can potentially cause serious injuries when they break. If you notice your door is having trouble staying open, let our experts know so that the problem is dealt with quickly and safely.

The Door Is Too Noisy

If you hear funny sounds coming from your door while it's in motion, some lubrication maintenance may be in order. You can carefully read your owner's manual in order to know how to properly apply the lubrication to the different relevant parts. Remember that all the moving metal parts like the hinges, rollers, and brackets will need to be greased. If you have torsion springs, they too can benefit from this type of maintenance. Make sure to open and close the door a few times after you're finished, to ensure the lubricant is spread evenly and gets into all the nooks and crevices.

The Remote Control Isn't Working

The simplest explanation for this type of issue is that the remote simply needs new batteries. You'd be surprised how often people forget to check this seemingly obvious thing. Still, this isn't necessarily what's wrong. Make sure to check the opener's power supply and the wall switch to make sure the problem isn't rooted somewhere else. If it isn't, then reprogramming the remote may do the trick, so you can try that (consult your owner's manual for more specific instructions). Of course, there could be an issue with the unit's internal components, or with the opener's circuit board, so you may want to let professionals handle the remote control repairs. Our team will be happy to help.

The Door Keeps Reversing

While this can, on rare occasions, be an electrical glitch, this type of problem is usually the fault of misaligned safety sensors. These photoelectric eyes alert the opener every time an obstacle comes to block the path of the door. They're located on the lower end of the vertical tracks, one on each side. To test their alignment, make sure their LED lights aren't blinking or jittering. If it's steady, then there may be an issue with their wiring or their lenses. Better have our experts at Garage Door Repair Van Nuys take a look.