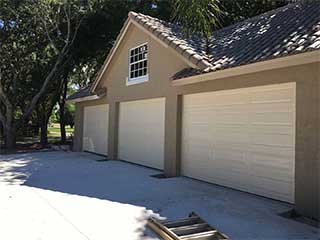 Dealing with unexpected garage door problems isn't just incredibly annoying, but also dangerous. That's why it's always better to let professional handle these sort of situations. If you'd like to avoid as many issues and malfunctions as possible, the best thing to do is to have your door professionally maintained, which will save you money on preventable repairs and keep the door in a smooth and balanced operating state.
Avoid Spring Related Problems
Some parts can be more dangerous than others. Garage door springs certainly fall into the "more dangerous" category. The constant stress they are under means it's only a matter of time before they break. Trying to perform spring adjustment without the proper training and experience can result in these units breaking prematurely, which can be incredibly dangerous for anyone standing nearby. Instead of dealing with these parts yourself, let our professional technicians carry out the required maintenance. We'll make sure the door is balanced and that the panels can move with smoothness and ease.
Keep It Safe
Your automatic door system relies on special safety features in order to prevent it from accidently hitting you or any other person or object that gets in its way. The photo eye sensors' job is to detect when an obstacle is in the door's way and alerting the opener. The auto-reverse mechanism will automatically open the door back up if it encounters resistance while trying to close. These features must be tested regularly to ensure the system is safe to use, which is why our team will carry out the necessary checks and adjustments upon every maintenance visits.
Smooth and Silent Performance
Because the mechanism relies on all sorts of moving metal parts in order to function, proper lubrication maintenance is an absolute must. Our experts will apply this treatment to the rollers, the hinges and even the bearings. If you have torsion springs or a screw or a chain drive, we'll lubricate them too. As a result, not only will the door make far less noise, the reduced friction will allow different components to last longer, which will help you avoid all sorts of breakdowns.
Schedule an Appointment
Don't let your door suffer from preventable problems. Contact our team at Garage Door Repair Van Nuys and let our professionals make sure that the mechanism can last for a very long time.
We also offer:

Damaged Parts Replacement

LiftMaster Garage Door Openers

Broken Garage Door Spring Replacement

Garage Door Opener Track Maintenance